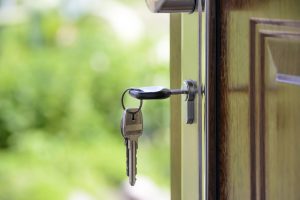 So you just moved into your new pad and your landlord is already teasing you about getting your locks done. If you just got a new apartment, then yes, definitely re-key your lock for several reasons. First off, you want to avoid anyone you don't know from having access to your new apartment, such as the former tenant. Second, you might want to keep the same style lock you have already. Thirdly, you might need to get the lock up to standard so that it meets the apartment building codes. The last thing you want is for the landlord to cause a fuss about it later. So in order to cover these bases, it's a good idea to know what re-keying is in order to get the right service for your apartment.
Re-keying service
Re-keying is when a locksmith removes the pins and tumblers from the old lock and replaces them with new pins and springs so that the old key no longer works on the lock. When a locksmith re-keys your lock, he will most likely lubricate it to make it function smoothly again. Most people need this service to make sure that no one else has access to their new residence or building. In most cases, you can re-key the lock and it will work just fine. But in some cases, a lock will be worn down so much that the only option then is to replace it. Your locksmith will let you know if that is the case, recommending another solution if needed. Next, we will go into the reasons for you to re-key your apartment lock.
Protect your residence from strangers
The number one reason people re-key their locks is to keep key control after a change in possession of the property, such as an old tenant's key. Key control simply means that your old key may have been duplicated and those copies still work on your lock. So having control over whose keys work for your lock is very important. Duplicating your keys is a good idea, but ideally, you'd only want your close friends and family to have a spare key in case you lose yours. Of course, make sure to duplicate your new key after the locksmith has already re-keyed your lock. You want to keep your apartment as safe as it can possibly be, so re-keying your lock is the first line of defense against such scenarios.
Same style lock
Re-keying is popular because you might want to keep the same style lock you have currently. Why replace the lock when you like its look and features already? In many cases, it's a cheaper alternative to buying a new lock and failing to install it correctly. Therefore, re-keying can save you time and money by investing in your lock's durability and good looks.
Keeping your apartment up to code
Maybe you need to get the old lock up to standard to meet the new building codes of your apartment. The longer you wait, the more your landlord will hound you about getting it done. It's a simple fix and most locksmiths can re-key a single lock in about 10-15 minutes. So it won't take too much time out of your busy schedule. Plus, most locksmiths operate 24 hours a day so you can get it done right after you come home from work.
Re-key your lock with Key Service Agoura Hills
In most of these cases, you will need help from a professional who knows what they're doing. A locksmith will be able to re-key the lock and make a new key for you without interrupting your busy schedule. We are open 24 hours a day to help you re-key that lock quickly and safely. You just moved into your apartment, so you want it to be as secure as possible when you're not home. So don't let the old tenant get into your apartment, get those locks re-keyed quickly!